Beach information
Our coastline is protected by a set of environmental rules. Respecting those rules is a matter of safety. Lifeguards are present on the following beaches: Plage du Veillat, Beaurivage, Péguière, Plage du Débarquement, plage d'Agay and plage du Lido.
Bathing
First-aid station contact information: Tel. +33 (0)4 94 51 43 54
Be sure to check the safety flags and rules posted on each first-aid station:

Life guard on duty

Swimming and bathing dangerous

Swimming and bathing forbidden
Bathing water quality
Analyzing the bathing water quality regularly is part of our long term commitment to quality. With the clean bathing water certification, Saint-Raphaël guarantees visitors the water will be monitored regularly during their summer stay. More information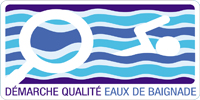 Beach games and activities
Swimming is allowed in the designated areas marked by large round yellow buoys and restricted to 300 m from the beach in the zones where a lifeguard is on duty.
Be aware that wind comes from the land, pushing one out to sea.
Beach signs
| | ALLOWED | FORBIDDEN |
| --- | --- | --- |
| Sport or pleasure boats | | |
| Motor vessels, motorboats | | |
| Sailing boats | | |
| Windsurfing boards | | |
| Water skiing | | |
| Swimming | | |
| Motor boats | | |
| 5 knot speed limit | | |
Navigation marks
Navigation marks are used to inform mariners of the dangers, principally those submerged in water, and the navigation channels. They can be floating or fixed, lit or not.
Weather
Météo-France provides weather reports for sea-related activities and sailing. Checking them will allow you to safely organize your activities.
Telephone : +33 (0) 892 68 08 83 (0.34 €/min)